Watchmaking is a beautiful art. Some watches are masterpieces that can be worn on a wrist. Francesco Schito and I have collaborated on these images, the project is still ongoing and it will be updated as we are going to create more artworks. Keep an eye on this space!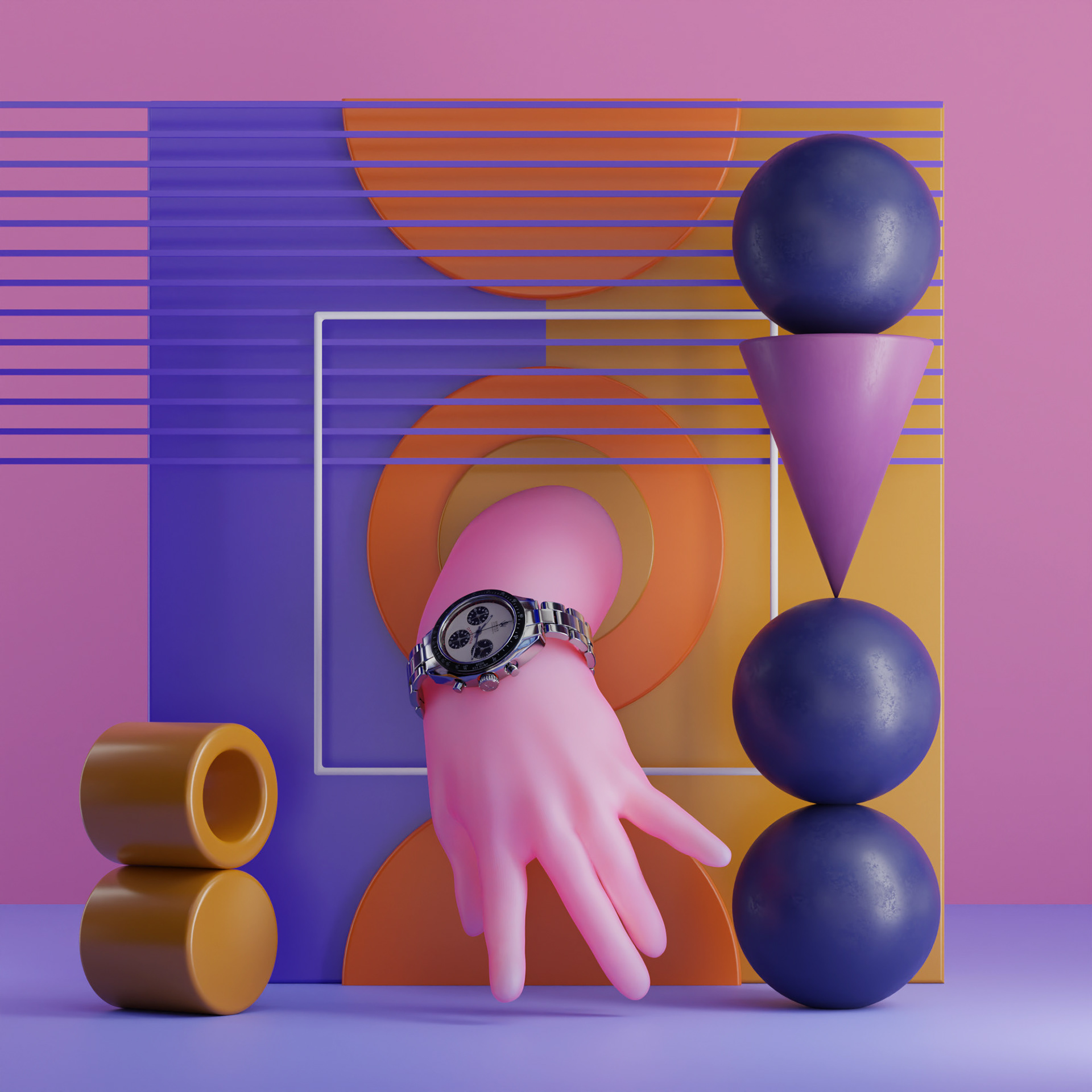 Francesco is known for his beautiful abstract hands. Together we had the idea to display 3 of the most important watches of our time, the Crash, the Royal Oak and the Daytona, in an unusual context using strong colors as well as basic shapes, so to create a stark contrast with the elegant design of the watches.
I was tasked with creating the set up for the watch shots, lighting and materials.
The Royal Oak from Audemars Piguet is considered by many to be the watch that saved the art of swiss watchmaking from the disruption brought by Japanese quartz technology in the 60's-70's. The watch was designed by Genta, probably the most famous watch designer of our generation. In this image the watch is seen crushing the quartz and bringing back the glam and prestige to swiss watchmaking. 
The Crash watch was created by Cartier in London in 1968 and it is considered by many to be an Icon, one of the most beautiful and exclusive watches ever made. This was also the first time that a watch would be designed in an asymmetrical way. 1968 was the year that Warhol opened up his own printing business, redefining the art scene of the time and giving life to what we today refer to as POP ART. Because of these parallels, I decided to represent the Crash in the same way as Warhol represented another Icon of that time, Marylin Monroe.
The Nautilus is one of the most famous watches from Patek Philippe. It was designed in 1976 by Genta (same designer of the Royal Oak) the same year that the shuttle flew into space. Watch collectors consider this piece as the symbol of transition between the old and the new school of watchmaking. 
The Rolex Daytona "Paul Newman" is considered a gem amongst collectors. The asking price of this watch is sometimes around 250.000 $ with the original version owned by the actor which sold at auction for almost 18M $ The wife gifted this watch to his husband with the famous engraved phrase "drive carefully me"  and a leather strap to allow for a better driving experience since the original metal strap would be more rigid and would make the watch spin around the wrist whilst driving. In this image I have represented the watch in his purest form with glitch lines representing speed (being Paul Newman a race car driver) and the 3 stripes on each side to represent the number 33 of his Nissan.
Feel free to say hi on our Instagram pages!
instagram.com/francescoschito

instagram.com/fabiopalvelli